Puyallup Washington Animal Removal & Animal control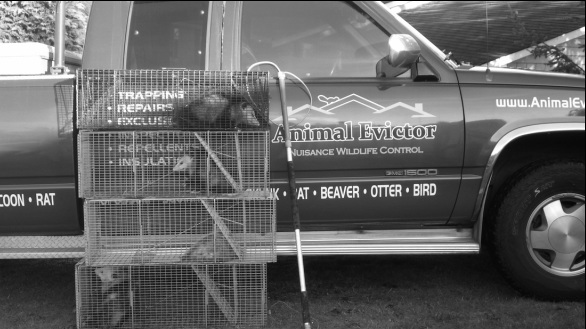 Call: 1-877-405-7728
Puyallup WA Wildlife Removal. Wildlife removal and Animal Removal in is one of our most requested services. Puyallup WA is home to many pest wildlife species such as skunks, raccoons, opossum, squirrel, bats, Birds, coyote, rats, mice and more. Our Puyallup WA wildlife control technicians offer solutions for all of your wildlife control and animal control needs. We perform Rat trapping, mice control, Raccoon Trapping, Bat Removal, Puyallup WA Opossum Removal and more. Our wildlife control Specialists understand the unique challenges of Trapping and Removing Wildlife in an urban environment such as the Puget Sound and Puyallup WA area. A lot of structures in Puyallup are very old meaning they were not built to current Puyallup Washington building specifications. We have many years of experience in dealing with these unique structures. We can Remove Rats, Raccoons and all other animals from ANY attic or crawlspace in the areas we service in Puyallup Washington. No matter how tight the space or tricky it is to get to we have the animal control tools and wildlife removal equipment to get the job done. If we cannot remove the animal the same day, we use the best baits in the wildlife control industry to help lure in our target pest while not attracting non target pest animals.


Puyallup WA Rat Control. There are two primary species of pest rats in Puyallup WA. The Roof Rat and Larger Norway rat. Roof Rats don't necessarily live in or on your roof. They get there name in part to their incredible balance and ability to climb their way into our attics. The Roof rat has an extra-long tail and slender body allowing them to climb like a squirrel across power lines, up trees, and even your house trim. Our Puyallup Roof Rat Control and Roof Rat Trapping experts can track down your rats and remove them permanently with proper technique and entry exit point identification skills. No matter where the roof rat entry is we can and will find it. You may have been told by your local area Pest Control Company that this is not possible. It Is Possible. We achieve the so called impossible every single day in Puyallup Washington at Animal Evictor. We hear the same story all too often from our customers about how they went thru two or three Puyallup WA pest control company's before finally finding us and eliminated the problem wishing they had found us first. Puyallup Washington's Norway Rats are often referred to as sewer rats and are usually found infesting our crawlspace. Most Norwegian rats here average four to 6 inches in body length but I have personally trapped Norway Rats in Tacoma, Puyallup, And Puyallup WA the size of Chihuahuas. We have the traps it take to trap even the largest rats in Puyallup WA. Rats often take residence inside crawlspaces in the Puget Sound and surrounding area causing considerable damage and contamination putting your family at risk of disease, fleas, and allergens. Puyallup WA houses often require repair work such as screen installs, New Crawl doors and other light carpentry of metal work to keep rats from re-entering the structure once the current rat population has been eliminated. We Can also Live Trap Rats and Remove them if so desired. Live Trap Rats? Yes we know that may sound unusual to some but at animal evictor we understand why some folks do not want to harm any animals regardless of how taboo they may be. We respect all beliefs and ways of life at Animal Evictor. Whether you want to use snap traps or live traps for your WA Rat Control We support you. In Washington State there are certain laws pertaining to the live trapping and release of rats and this should never be done without consulting an Animal Evictor rat removal specialist. Our Puyallup Washington rat control team not only traps and removes rats from crawl and attic spaces. We also repair all damages cause by rodents. Animal Evictor is a full service nuisance wildlife control company providing Puyallup WA crawlspace insulation, attic insulation, vapor barrier replacements, rat feces clean up, rat urine sanitizations, rat nest removal and more. We can also repair any hole gap or crack to block rat entry. We are licensed general contractors and can handle all of your rat control and rat damage repair needs. Call Today!


Puyallup WA Raccoon Control. We are the #1 choice in Washington Raccoon Trapping. Our Puyallup WA Raccoon Removal Technicians are state licensed to handle all of your Puyallup WA Raccoon Trapping needs. Our trappers hold Washington State trapping licenses and Washington State Nuisance wildlife control operator's certifications. We also have some the most extensive technician training programs offered by any wildlife control company in the country. Our Puyallup WA Raccoon Control Trappers use state of the art and field tested traps, tools, and baits on all of our raccoon trapping and raccoon removal jobs. We also specialize in Raccoon Feces and Nesting site removal and decontamination. Puyallup Washington has a very high density of raccoons for an urban environment. Downtown Puyallup and Lacey are particularly high density areas for nuisance raccoons. It is my personal belief that the high raccoon population in the Puyallup area is in part due to the plentiful food sources given to them by local Puyallup Lacey and Tumwater residence. Always consult a professional Washington state licensed trapper before ever attempting to trap and relocate a raccoon. Relocating Raccoons is a crime in Puyallup and throughout Washington State. By relocating the raccoon there are many negative impacts including property damage to someone's home or business, starvation of the raccoon, death by nearby predators, disease, overpopulation, and a misbalance of the local eco system to name just a few. We get most Puyallup WA raccoon removal calls for three main reasons. First is Raccoons in often enter our Puyallup Washington crawlspaces and attic prompting many raccoon trapping requests especially in spring and fall. Raccoon often tear out vent screens or enter thru inadequate crawl access covers to nest or hunt in Puyallup WA homes. When raccoons enter a crawl space our attic they can quickly cause large amounts of damage and contamination. Raccoon feces piles can get very large and gallons of urine can be accumulated and become putrid in the crawlspace or attic. Raccoon feces can be very hazardous and should be handled by trained Raccoon Removal and Raccoon Decontamination specialist. They also often tear out the sub-floor insulation while hunting rodents in the crawlspace or piling up insulation on the ground and heating systems for a nesting site. Fleas can also be another contribution to the home after a raccoon infestation. Let our Puyallup WA Raccoon trappers and raccoon cleanup pros do all the dirty work for you. We will get your home back in shape and make it a healthier environment for you and your family. Our second most popular Raccoon Trapping and Raccoon Control requests in Puyallup is due to Raccoon causing damage to lawns. Raccoons especially favor freshly laid sod and will often flip the sod over to hunt worms, grubs, and other tasty raccoon snacks. This raccoon behavior is referred to as grubbing. The grass will often die when this occurs because the grass never has a chance to root and the root system dries out. Our Puyallup Washington Raccoon trappers can find and identify the best possible location for trap placement and use the best raccoon baits in the industry to catch and remove your target Raccoon quickly. Our third most common Puyallup raccoon call is simply yard invasion. Raccoons travel at night and may pass thru dozens of yards while foraging for food and searching for mates. We often get raccoon trapping and raccoon control calls by concerned pet owners that do not want there to be a conflict between their beloved family pets and the wild raccoons. When a dog or cat gets into a fight with a raccoon there is rarely a good outcome. Puyallup Washington raccoons can be very aggressive and lash out suddenly and abruptly when provoked or started by a pet. Our raccoon trapping and raccoon removal specialists have baits that target the raccoons but won't attract your pets. We Want to Trap Raccoons not housecats and squirrels so the right bait make a big difference. Call today and book your Puyallup, Lacey and Tumwater Washington area raccoon removal.


Puyallup WA Bat Removal. We provide full service bat control in Thurston County Washington. We Remove Bats, Seal holes to keep bats out of the attic, and perform guano removal and sanitizations. Bats often enter homes thru small gaps and openings in soffits, siding, roof vents, and other various locations on our homes and outbuildings. Puyallup WA pest control Company's typically do not have the proper training in identifying bat problems and often confuse guano with mice droppings. Little brown bats are the usual attic invaders in Puyallup WA. Bats like to nest in our attic and wall insulation on cold days and will hang from the rafters on hot days to keep cool, dark and protected. These bats are protected in Puyallup Washington and you should never perform bat exclusion work by sealing bat entry points until you are sure that all bats have been removed from the structure. Our Puyallup Bat Removal pros start by thoroughly inspecting the exterior of the home and identifying all current and potential bat entry points. This is the first and most important step in bat control. Our Puyallup bat removal experts have tall ladders and all of the appropriate bat control tools to safely remove the bats from any Thurston County Washington home. We seal holes and install one way bat doors that allow the bats to safely leave the structure but prevent any re-entry. Weather your Puyallup area home is new or old odds are there are gaps somewhere that bats could take advantage of. Bats can squeeze thru openings so small you may think it's impossible until having witnessed it firsthand. Bats are nocturnal and would prefer to nest near a plentiful source of flying insects for them to feast on nightly. These bat rich areas are usually found near large and small bodies of water in Puyallup WA or where the wind tends to swirl causing a concentration of food for the bats. Bat guano is very acidic and is harmful to humans. Great care should be taken when removing bat guano from a Puyallup Washington home. Our bat removal and bat control technicians can safely remove the buildup of bat guano in any home. Bat boxes may also be available for purchase from your bat removal technician if you wish to provide an alternative housing option for the displaced bats. Our bat control professionals have all the necessary Washington state licenses and certifications needed to remove bats from any structure in Puyallup. We are also licensed bonded and insured general contractors in Puyallup Washington which comes in handy with some Bat problems. We are the #1 Company in Washington for bat control And Bat removal. Call today and schedule your multipoint bat inspection with one of our highly trained bat removal technicians.
Puyallup WA Opossum removal. We control and trap opossums or possum in Puyallup Washington. Opossums are nocturnal marsupial and are often found entering crawlspaces and attics. When opossums enter a structure they can cause significant damage to our attic and crawlspace insulation. Much like raccoons when opossums enter the crawl and attic thru openings in screens, doors, and other gaps they often cause damage to the insulation and vapor barrier while hunting rodents and building nests in our homes. Puyallup Washington is home to many possums. Our number one call for opossum control in Puyallup Washington is for structural opossum invasion. We also receive a significant amount of calls for opossum simply walking thru the yard. People often fear for their pets and children when opossums are seen in the area. We are very successful at open space trapping opossum in Puyallup WA. We use the best opossum traps and opossum trapping techniques to catch our target animal. We have a plethora of different opossum baits that are field tested and trapper approved. Our bait manufacturer is arguably the best in the country when it comes to luring opossums. We are licensed by the state of Washington to trap, transport, and remove opossums in Puyallup WA. When trapping opossums trap placement and bait type is key. Whenever possible our opossum removal trappers will set a trap directly over the entry exit point of a compromised structure. Then our opossum removal techs trained in animal handling will enter the space the opossum is occupying thru an alternate entry and flush the opossum out of the structure and into the trap. Manual extractions often occur with opossums or possums with a catch pole or by hand if you are a properly trained wildlife technician experienced in handling wild opossum. Our Puyallup Washington opossum control experts will not only trap and remove your unwanted opossums but we will also provide solutions for keeping the opossums and all other critters out of your crawlspace and attic permanently. From Screening, fencing, carpentry, or metal work. Our Puyallup WA opossum control pros have all the knowledge and tools available to block any critter out of most any structure in the Puyallup area. We not only use the best opossum traps and opossum baits but we also use state of the art inspection equipment when necessary to find and eliminate all potential opossum entry points. We also offer a wide array of other repair services in Puyallup Washington from insulation removal replacements to vapor barriers and opossum waste cleanup services. When it comes to opossum trapping, opossum removal and opossum control in Puyallup WA. Animal Evictor is #1 Call Today!


Puyallup WA Squirrel Control. We perform Squirrel Trapping and Squirrel Removal in Puyallup Washington. Our Squirrel Trappers most often get sent on Squirrel control jobs in the Puyallup and outlying areas do to squirrels trespassing in our attic spaces but we occasionally get squirrel trapping requests do to Squirrels gaining access to crawlspace and wall voids. When trapping and controlling squirrels it is vital that all squirrels that are occupying the attic and crawlspace are removed before the hose is sealed up. If the squirrels are blocked out of the structure they will often chew their way back in causing additional damage and higher repair costs. Our Puyallup WA squirrel trappers have tall ladders to access hard to reach access points on homes and building. All of our Squirrel control experts carry hand tools, screens, traps, and other materials necessary to set traps in difficult areas such as steep rooflines. Our Squirrel Trapping and removal specialist are also qualified repair technicians and can seal most any squirrel entry exit point in Puyallup Washington. We take pride in our repair work and make sure that when the work is complete it will hold up if other animals and squirrels attempt entry into the home. Squirrels have exceptional balance, and teeth capable of chewing thru sheet metal so it is often necessary to sanitize the attic space to help reduce the odors and scent attracts left behind by the squirrels that were removed from the attic or crawl. During your appointment with one of our state licensed Puyallup Washington nuisance wildlife control operators will start by inspecting the interior and exterior of the home provided you with a complete estimate of all of your squirrel control and squirrel trapping needs. This will leave you with a complete plan of action to alive you of your squirrels and the messes they leave behind. There are two primary types of squirrel that like to enter our homes in Puyallup WA. The Grey Squirrel and Douglas Squirrel. Douglas squirrels are our native squirrel species and are protected in Puyallup Washington. You should always consult a licensed trapper before attempting any squirrel removal or squirrel trapping in Washington. Our Technician can easily identify what type of squirrel we are dealing with and how to best extract it from the home in a safe fast and humane way. We use live traps to trap and remove Squirrels in most cases. Live traps are very effective at catching squirrels in Puyallup WA with the right bait and correct placement. Our Puyallup wildlife techs have the best squirrel baits available and the best squirrel traps made to get the job done efficiently saving you valuable time and money. Call Animal Evictor today and get rid of those pesky squirrels once and for all.


Puyallup Washington Skunk Removal. We trap and remove skunks in Puyallup WA and the surrounding area. Skunks are seldom seen by people in Puyallup WA because they are nocturnal. However Puyallup Washington has a healthy population of skunks scattered throughout the Puget Sound area. We receive the vast majority of skunk calls in the spring summer and fall. Most often people call to have our skunk control and skunks removal experts to trap skunks because of the nasty and highly recognizable odor they leave behind in our Puyallup WA crawlspaces, outbuildings, and pets. Trapping skunks can be a very odorous event as well. Skunks are more expensive to trap and remove then some other Puyallup Washington animals due to the heavy clean up required by the trapper to the trapping equipment and the skunk trappers transport vehicle after the catch. Skunks are often found causing damage to Puyallup Washington lawns while looking for tasty worms and bugs to snack on. Raccoons are also know to exhibit this behavior called "grubbing". This can be frustrating to home owners especially those who have laid fresh sod. I have seen a group of skunks flip over an entire front lawn of sod nightly in one particular case causing severe damage to the lawn. Having a skunks around can be a chore for dog owners as well for obvious reasons. The number of skunks in any given area of Puyallup WA can vary widely. Our skunk trappers may catch one skunk on one street and two blocks down the road catch a group of 8 or more skunks. For smaller yards there are repellant options that our skunk removal pro or skunk trapper can deploy that are highly effective as well. All of our skunk control specialist are highly trained in what they do and have the best skunk trapping equipment and skunk removal equipment available. At Animal Evictor we are not only skunk trappers and removal specialists but we are also licensed bonded and insured general contractors that can provide you with all of your Skunk damage and exclusion needs in Puyallup. We install Crawlspace access doors and vent screens that are guaranteed to keep skunks out. In the unfortunate event that the skunk has entered the crawlspace and sprayed. Our Puyallup WA skunk control team has the experience and ability needed to get the odor out quickly. From insulation to vapor barriers and sump pumps we do it all and do it all well. Proper trap placement and bait is the key to catching skunks and our Puyallup area nuisance wildlife control operators will find the perfect spot to place the trap and only use the best baits available to catch your target animal as fast as possible. When it comes to skunk trapping skunk control and skunk removal in Puyallup Washington and all of Pierce County there is no better choice than Animal Evictor. Call today and let us take the skunks away!

Puyallup WA Dead Animal Removal. We remove carcasses in Puyallup Washington our services include things from a Dead Raccoon Removal to a dead rat needing removal from a duct line. Our Puyallup WA Carcass removal service will leave your home smelling as fresh and clean as the day before you first discovered the odor coming from your crawlspace or wall void. Experience is the number one factor in any dead animal removal. Being able to track down a dead animal carcass in a sea of insulation and maze of duct work is a very unique and specialized skill. Our technicians are trained to find dead animal carcasses and remove them regardless of the hard to get to location they may be in. Puyallup Washington homes often have construction gaps and inadequate crawl access doors that leave openings that various animals may use as entry points. Some animals die of natural causes in under or above the home. Other time a critter could get trapped in a wall void or other tight space in the home trapping it and creating a situation that requires a dead animal carcass removal in Puyallup Washington. We have inspection cameras that allow us to see inside wall voids and vent systems with minimal damage to find hard to get dead animals for removal. The fourth most common carcass removal jobs we are called too in Puyallup WA are Dead Raccoon removal dead rat removal dead opossum removal and dead deer removal. The odors caused by a dead animal in a crawlspace can overwhelm the people residing in the home above. How long the smell lasts all depends on the type of dead animal the location of the dead animal the size of the dead animal and the air temperature. When a rat dies in a heater vent it can be hard to determine the exact location of the carcass because the odor may be pumping out of all the duct lines leading into the home. Thru a process of deduction our Thurston County Washington dead animal removal and Puyallup WA carcass removal professionals can remove any dead animal from any location in your home at an affordable cost. Unlike pest control companies we will never pressure you into lengthy contracts or try to sell you a poisoning program only to make the contamination ongoing and progressive in your home. Not only can we remove your dead animal but we also sanitize the area in which it died and remove all contaminated materials from your home once the dead animal has been removed. We are also a full service wildlife damage repair company if additional services are needed from damage cause by the animal occupying the structure. We are the best, most efficient, most professional, and often most affordable dead animal removal or carcass removal experts in Puyallup WA. Carcass removals can normally achieved in one visit and usually take no longer than an hour for our experienced Puyallup Washington Animal Removal technicians. Call Animal Evictor and alleviate yourself of that horrible smell coming from your crawlspace today.


Puyallup WA Bird Removal and Bird Control. Animal Evictor of Puyallup Washington can remove any bird from any location in our Thurston County Washington service area. Starlings and Pigeons are the usual source of bird problems in Puyallup Washington and surrounding towns. We also receive a large number of complaints regarding woodpecker control and flicker removal as well. Starlings often enter homes thru exhaust vents and soffit screens and build large nests consisting of various grasses feather and other debris. These starling nests can block the air flow completely in bathroom and kitchen exhaust vents causing strain or damage to the system. Starlings are very dirty birds and there nesting sites are typically covered in bird feces causing a great deal of contamination in the affected area. Our Puyallup Washington bird removal and bird clean up professionals have special tools that allow them to remove birds and bird nests from long duct work and tight attic spaces. Starlings are a pest bird and should not be allowed to take residence in your home. We remove birds and keep birds out permanently. Our Puyallup bird removal technicians can install bird guards over all types of exhaust vents keeping the birds from entering in the future. Our highly trained bird Control and Bird Removal Experts in Puyallup WA can also repair or replace soffit screens attic screens and any other vents on the home in case of a birds in the attic issue. Pigeon control. Pigeons often roost on our roofs, overhangs, outbuilding and other locations causing a hazardous buildup of pigeon droppings that require cleaning and sanitization. Our Puyallup Washington pigeon control and pigeon removal technicians offer many different solutions for the permanent removal of pest birds. From simple and inexpensive bird spike installations to high tech shock track, bird slides, and lighting systems to keep your pigeons and other pest birds off of the affected area permanently. Our Puyallup pigeon control and pigeon removal nuisance wildlife control operators have all the tools, experience, and skills needed to get rid of your nuisance pest birds fast. Puyallup Washington is also home to many woodpeckers and flickers that can cause considerable amount of property damage as well. Our woodpecker control and woodpecker removal technicians can help. Woodpeckers often drum on our structures in Puyallup for three main reasons. First is to locate another woodpecker. Woodpeckers will drum on the side of a house or other structure so the sound travels across the land alerting potential mates of their presence. The second most prevalent reasons for woodpecker to drum on homes is because they are looking for food or retrieving food. Woodpecker and flickers drum on the wood to locate insects they may be hiding in the timber and then will bore a hole into the wood to retrieve their tasty prize. If this is occurring to your structure then an insect issue such as wood boring Beatles, carpenter ants or termites may be present as well and our bird control and woodpecker removal pros in Puyallup Washington can recommend the best local exterminator for the safe removal of these pests. Last but not least woodpeckers may be drumming on the wood to bore a nesting hole. If you have a baseball or larger size hole or holes in your siding with lots of in and out activity this may be the case. Our Puyallup WA pigeon and bird removal experts can fix the holes and deploy woodpecker control devices that can finally alleviate you of those pest birds once and for all. All of our licensed nuisance wildlife control operators and bird removal technicians in Puyallup Washington have all the skills and abilities and licenses needed to safely remove all birds including pigeon our service areas. Call Animal Evictor today and schedule your inspection with one of our Puyallup bird removal pros!


Call: 1-877-405-7728